Lights that set a tone & tell a story.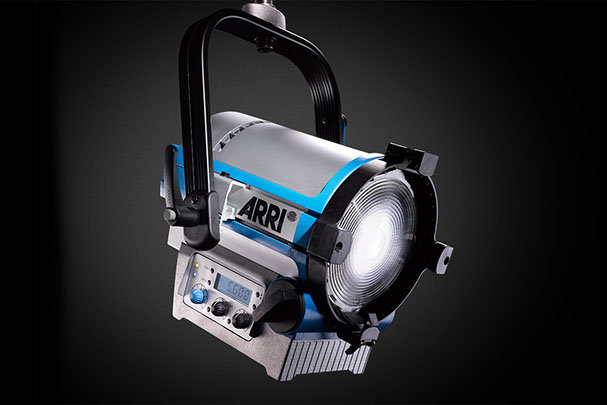 " Good lighting is key, if you don't have that, go home."
Field: Short Films
Lights: TruColor HS
"Lighting creates subtle tones and emotions needed to create good work."
Field: Documentary
Lights: LoCasters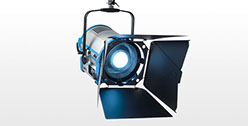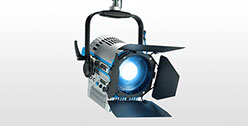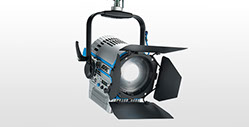 The L10 is the brightest and largest, its substantial 10 inch Fresnel lens and powerful output allow for more distant fixture placement and the wrapping of light around objects in a natural and pleasing way.
Color temperature, tint and hue can be continuously adjusted from 2,800 K to 10,000 K, between full plus or minus green and RGBW colors.
Daylight Tuneable allows for fine-tuning of the daylight color temperature with increased brightness particularly suited to applications requiring precise matching to daylight balanced light sources.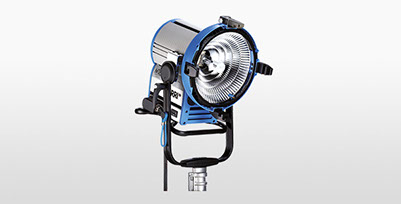 The M18 combines MAX Technology, True Blue features and a new 1800 W lamp. The result is an exciting new class of HMI that can be powered from most domestic sockets. It is as small as a 1200 W PAR lamphead but with 70% higher light output. Adjustable from 20° to 60° beam angle, the M18 can also be used with 1200 W lamps.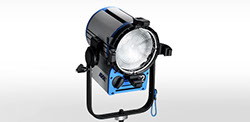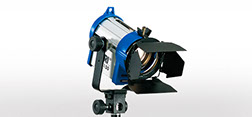 The T1 represent an unprecedented evolution of the location fixtures that have been popular workhorses for over two decades.
The T2 represent an unprecedented evolution of the location fixtures that have been popular workhorses for over two decades.
It's ideal for use where compact, lightweight tungsten Fresnel spotlights are required, especially in small studios where grid height is a problem.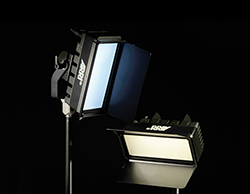 What truly makes these LED units unique is the shadow quality. Casters emulate a single source, which results in a single shadow. Therefore, the Caster Series can be effectively "cut" with a barndoor or flag. Other LED fixtures, with multiple LED "points", produce multiple shadows and often-times the color variation of the LEDs create chromatic aberrations. The mixing chamber within the LoCaster and BroadCaster combine all of the LEDs together providing a single beam of soft light.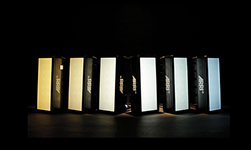 "Lighting is the what sets the professionals from the amateurs ."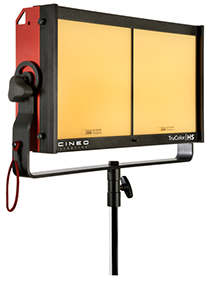 The Cineo HS™ is the first color- accurate digital soft source designed specifically to meet the strict standards of motion picture and broadcast production. With more than twice the output of a 2K incandescent soft light, HS delivers an extended CRI over 95, generates a 160-degree beam spread, and uses less than 500 watts of AC power.
Remote Phosphor Technology (RPT) eliminates the color-accuracy limitations inherent in LED fixtures. Instead of relying on LEDs as the source of illumination, HS' independent phosphor panels emit high-quality light when excited by the high-frequency wavelengths from blue LEDs.
The interchangeable phosphor panels allow you to achieve a variety of color temperatures with a single fixture. The CCT of the HS is extremely consistent fixture to fixture, and will not change over time like other lighting technologies.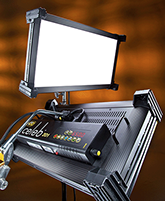 The daylight-balanced Sola 6C™ provides the controllability and light-shaping properties inherent in a Fresnel light, with the advantages of LED technology including DMX-controllabilty. The Sola 6C draws a small fraction of the power of conventional Fresnel fixtures.
The Celeb® 201 DMX LED produces a soft, even wraparound lighting quality (CRI 95) and produces color faithfully, beautifully on HD or film, in the studio or on location. The Celeb's 100 Watts of soft, lustrous white light doesn't flicker or shift color temperature when dimmed
The Celeb® 401 DMX LED is one of the largest LED soft panels available in the market today measuring 45" x 14" The Celeb boasts technical innovations: dial-in white light from 2700 to 6500 Kelvin and presets with programmable settings;
full range dimming without flicker or color shift.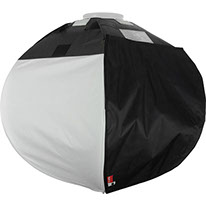 Lantern Softboxes are used by still photographers, filmmakers and videographers, for illuminating entire rooms with soft, even light. This lantern softbox comes with a black skirt, which acts as a gobo, and provides more directional control of the light output from your fixture. Available with 1000w & 500w bulbs and dimmer.
To create a softer light, and a much more even distribution of light, use a light bank soft box.
Available in sizes to fit the M18, HS Light, & L7 lights.